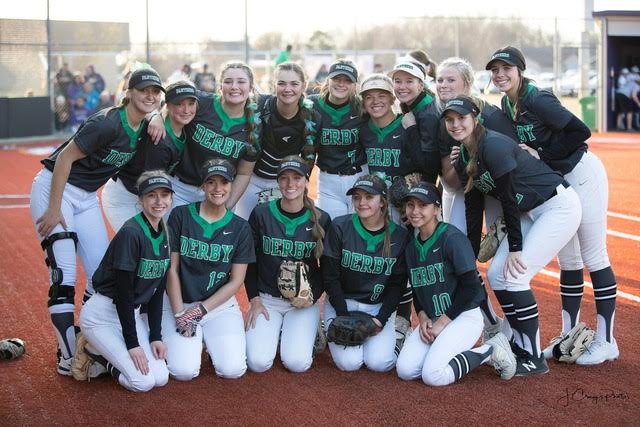 By Chris Cox
In her 19th season leading the Derby Panthers softball team, Christy Weve has seen and just about everything a coach can in her career. But last season's loss in extra-innings in the regional championship is one of the more heartbreaking losses she and Derby have experienced. While a loss like that could set some teams back, Weve believes it will help motivate her girls this season.
"Our goals this year are to be top of our league, host regionals, and then win regionals," Weve says. "After we get through all that, and get to state, we will reevaluate."
Helping lead this year's Derby Panthers are a pair of seniors, Audrey Steinert and Morgan Haupt, both of whom experienced that heartbreak last season.
"This year, we've seen our seniors step up and keep the girls focused on the game," Weve says. "Sometimes you get leaders that say the right things, but their body language doesn't match. But these girls practice what they preach."
Weve says Steinert and Haupt lead in a way that blends hard work and fun.
"They push their teammates," Weve says. "They push them to step up their game, to be focused and be in the game. But with that being said, they have a lot of fun. They get along really well with everyone. Our underclassmen aren't intimidated by them, and they've taken the younger girls under their wings."
Along with Steinert and Haupt, sophomore pitcher Addy Canfield, first baseman Rylee Frager, and catcher Trinity Kuntz give Weve a solid group of returning players to build this team around. Another underclassmen to watch is junior Sara Portela. Portela is a talented athlete and works hard for her team, on and off the field. However, with an admittedly young roster, Weve knows she'll have to rely on younger players.
"At shortstop we have Raegan Jackson who's a freshman," says Weve. "Our other pitchers are Addy Canfield, who's a sophomore and Cali Kuntz, who is a freshman. We've also had sophomore Avery Kelly play some second base for us. They have all stepped up and done a nice job."
With so many new faces, Weve says one thing that gives her optimism for the season is the chemistry this team has built.
"Their ability is to get along is huge," she says. "Their team chemistry is some of the best I've seen top to bottom. From JV all the way to the seniors, this is some of the best team chemistry I've had in a long time."