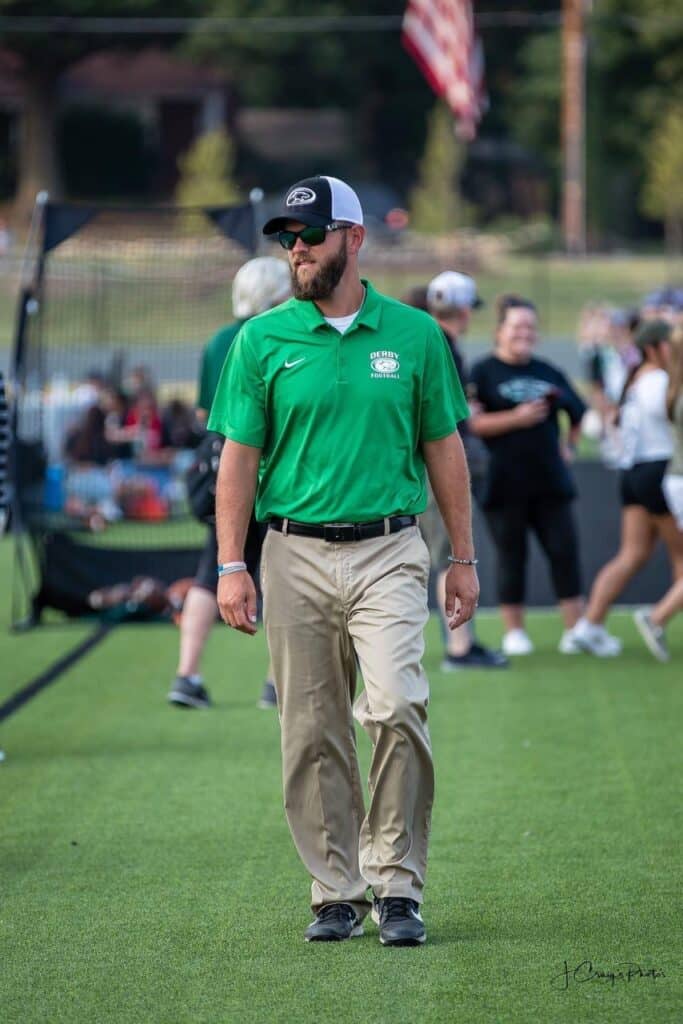 Mitch Pontious is an assistant coach for the varsity football team at Derby High School. VYPE Magazine editor Brad Heath caught up with coach Pontious to talk about his coaching career and who influenced him to become a coach and educator.
VYPE: How long have you been coaching and how long have you been at Derby?
Pontious: This is my ninth year at Derby, and my seventh year coaching. I took the past two years off from coaching to be an Administrator at Derby Middle School, but now I'm back to teaching and coaching at Derby High School.
VYPE: Where did you get your start in coaching?
Pontious: I began coaching as a student assistant at Kansas State University. My first high school coaching job was at Arkansas City High school.
VYPE: What position do you coach at Derby High School?
Pontious: I am a safeties coach at Derby High School.
VYPE: What do you enjoy most about coaching?
Pontious: My favorite thing about coaching is being surrounded by great kids and coaches. The comradery that is shared within a team is unlike anything else in the world.
VYPE: Do you have a mentor or someone you look to when you have questions about coaching?
Pontious: Aaron Bucher Coach/Athletic Director in Arkansas City. Coach Bucher was my coach in high school, and I got an opportunity to coach with him at my first coaching stop. He mentored me as a young coach. He modeled how to be a great coach, and how to lead from the front. He is a great example of servant leadership.
VYPE: Do you coach any other sports?
Pontious: I have coached high school track and field, and middle school basketball in the past. Currently I'm only coaching football but would love to coach track again in the future.
VYPE: What do you enjoy doing in your free time?
Pontious: I love spending time with my family (wife, two sons, one daughter). We love to fish, hunt, and participate in youth sports. In our spare time we enjoy watching the Chiefs or Wildcats play.